Kick-Start Your New Year with Our SLA Chat Series, TX-OK-LA Edition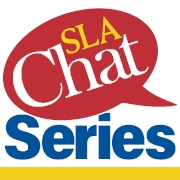 SLA Members in Louisiana, Oklahoma, and Texas are invited to join a limited-space, informal chat led by Vicky Neumeyer, SVP & General Counsel, New Orleans Saints and Pelicans, and Brandon James, VP of Basketball Administration & Deputy General Counsel, San Antonio Spurs.
Supplement your quarantine webinar watching with a relaxed, interactive happy hour spent with SLA colleagues. No agenda will be set. Participants will be encouraged to speak with each other and use the chat feature to connect. Spots are limited to facilitate interaction and will be reserved for practicing attorneys as well as students.
The SLA Board and Outreach Committee hope you can join in on this, or a future edition, of the new SLA Chat Series so that we can stay connected until we can see each other in person again.

Registration is currently limited to SLA members in Louisiana, Oklahoma, and Texas, and will be available to SLA Members outside of these states as the date of the Chat Series nears, space permitting.
If you are a member outside of Louisiana, Oklahoma, and Texas and unable to secure a spot, please stand by for editions of the Chat Series to be hosted in other regions.
Not sure you are a member? To find out, for other questions, or to let us know that you'd like an SLA Chat Series in your region contact Melinda Long