COVID-19: Is Sports Adjusting To The New Normal And What Does It Mean For You?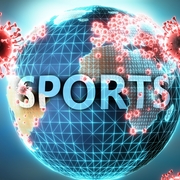 While quarantined and maintaining your social distance invest a little time in yourself and learn something new from a three-part SLA podcast series focused on the impact of COVID-19 on sports. Keep your social distance but still be engaged with other members at the SLA Virtual Outreach Events (VOE). Podcasts and VOE's are free. Join the conversation and register here.
Just released: Part 2 of the Sports and the COVID-19 Podcast Series titled: How The Sports World Is Adjusting To The New Normal
Coming soon: Part 3: Will The "New Normal" Just Become The Normal??
Missed Part 1? Listen to it here!
Part 2 of the SLA podcast features Lester Munson and Gregg Clifton discussing the effects of the pandemic including government actions to support the sports industry stimulus packages, the postponement of the Olympics and pandemic insurance.
The three-part podcast series is sponsored by the SLA and explores the impact of COVID-19 on sports, sports law and you. The podcast series will help SLA members keep up with the latest developments in the industry. The podcasts are hosted by Lester Munson with Gregg Clifton. Lester is a legal analyst for ESPN and Gregg Clifton is a Principal in the Phoenix, Arizona office of Jackson Lewis P.C.
Stay Connected - Don't Miss This Week's Virtual Outreach Event!
In support of this three-episode podcast series, SLA will be hosting weekly, Virtual Outreach Events (VOE's) for members to generate real-time discussion of the effects of COVID-19 and its impact on the world of sports. Join us on Wednesday, April 22, 2020 at 6:00 pm EDT.
Click here to join the conversation