Can the NCAA Justify Playing Games Without Fans?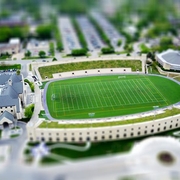 The question of whether to compensate college athletes has been a hot topic for many years. Given the COVID-19 pandemic and the uncertainty surrounding college athletics, the question has resurfaced with new implications. Opponents argue that college athletes are amateurs. They are "students first" and athletes second.
The money the players generate, however, would suggest otherwise. SEC football is currently under contract with CBS Sports through 2023 to broadcast its games for approximately $55 million per year. However, recent reports indicate that ESPN/ABC is proposing a bid of approximately $300 million per season – an increase of 445% - for those same broadcasting rights once this contract expires. That is $300 million per year for one sport in one conference.
CBS is not only in the business of paying for SEC football. In 2016, Turner and CBS Sports signed an 8-year extension worth $8.8 billion for continued coverage of the NCAA Men's Division I March Madness basketball tournament. That is $1.1 billion per year for a tournament that lasts approximately three weeks. How much of this money goes directly to the players that are responsible for the product? Zero. Of course, the NCAA argues that 90% of the money from these contracts is used to benefit college athletes. However, the definition of "benefits" is wide-ranging and encompasses recruiting expenses and coaching salaries.
In light of the COVID-19 pandemic, there have been rumblings about the possibility of the NCAA playing college football in the fall without fans in the seats. Can the NCAA and opponents of paying athletes justify that decision?
The NCAA and institutions, of course, stand to lose massive revenues if the season is canceled entirely. The average Power Five conference school makes approximately $120 million in revenue per year. College football accounts for as much as 85% of that number, or $102 million. LEAD1 and TeamWorks recently completed a survey of more than 100 Division I athletic directors. At least 35% of the ADs project a drop of 30% or more in revenue for the 2020-21 year. However, they appear to be counting on at least some form of football being played in the fall. As one athletic director points out, "if football is cancelled or not played in full, [there will be] significant more financial exposure."
Playing a season without fans would at least salvage some of that revenue. Considering that the average college football team brings in more money for their university than the next 35 college sports combined, it is no wonder why some are pushing to play the season without fans. Without a season, smaller sports that account for negative revenues could be cut as well.
The largest chunk of revenue for college football programs, 39%, comes from media broadcasting deals and sponsorships. Ticket sales make up another 27% while 26% comes from NCAA and booster contributions. Broadcasting deals typically bundle sponsorships, radio and TV shows, and advertising. Without any live games being played, media companies will not be inclined to pay for dead airtime. Many of these contracts contain a force majeure clause that waive loss or damages for both parties should games become impossible to play by reason of unforeseen catastrophes. Should the clauses be enacted, neither party would be liable for breach.
However, the NCAA and its member schools must consider the long-term effects on their product and the strength of their amateurism argument in future lawsuits. Despite their recent decision to allow athletes to profit off name, image, and likeness, the NCAA will continue to face lawsuits regarding athlete pay. Former Villanova defensive back Trey Johnson filed suit just a few days after that decision, arguing that the NCAA is violating minimum-wage laws by not paying its athletes.
In similar cases, the NCAA has successfully argued that their athletes are not employees, but students, and are thus exempt from these requirements. If the NCAA puts the players on the field this fall, this argument would be severely weakened moving forward. If the athletes are just students, can the NCAA justify allowing them to play and practice together while simultaneously banning other students from sitting next to each other in the stands?
The answer, very likely, is they cannot. As Paul Finebaum said on ESPN's "Get Up" morning show, "it would be the end of college football as we know it." People around the country are desperate for live sports and an escape from the unfortunate realities of real life. However, the health and safety of the players must triumph over their entertainment value. If fans are not allowed in the stadiums, the players should not be on the field, either. After all, they are just amateurs.
John is a 1L at Penn State Law and President of the Sports and Entertainment Law Society. He can be reached via email at jzn57@psu.edu.